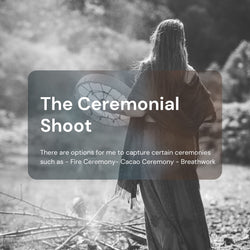 Heart Warriors
Spiritual Ceremonial Events Photography
I can assure you both as a shamanic practitioner and ceremonial space holder, as well as my history being a career in photojournalistic wedding photography that took me throughout Europe, I don't think anyone is better qualified to capture your event, ceremony or retreat than myself.
So long as everyone of your participants has given you full permission to capture them throughout ceremony. I can speak with everyone prior to the start of your ceremony if you wish, perhaps helping them relax and carry on as normal, its important for me to remove the barrier of a camera and have a connection with them, all part of me maintaining the art of being unobtrusive. 
I am hugely respectful of proceedings and well rehearsed as to various frameworks but of course all will be discussed as to how you see this happening. I am a storyteller, a journalistic approach, only ever directing a shoot if its a profile shoot or group shot, so theres no need for me to do anything other than capture what naturally unfolds, weaving detail shots and wide angles to help tell the storyline naturally.
I only cover ceremonies such as Breath Work, Hap'e, Cacao, Fire, Sananga, maybe Kambo, Yoga and Dance.

This is a basic starting price for a 2 hour shoot/ceremony and a selection of images that cover the story provided digitally. Longer arrangements can be made.
Fuel is an additional consideration, calculated at cost for anything over a 20 mile radius from my current home. I am happy to work with anyone to place a shoot in the diary whilst I am perhaps nearer your local area holding ceremonies or appearing at festivals across the UK and I am happy to discuss any unique arrangements.
❤️